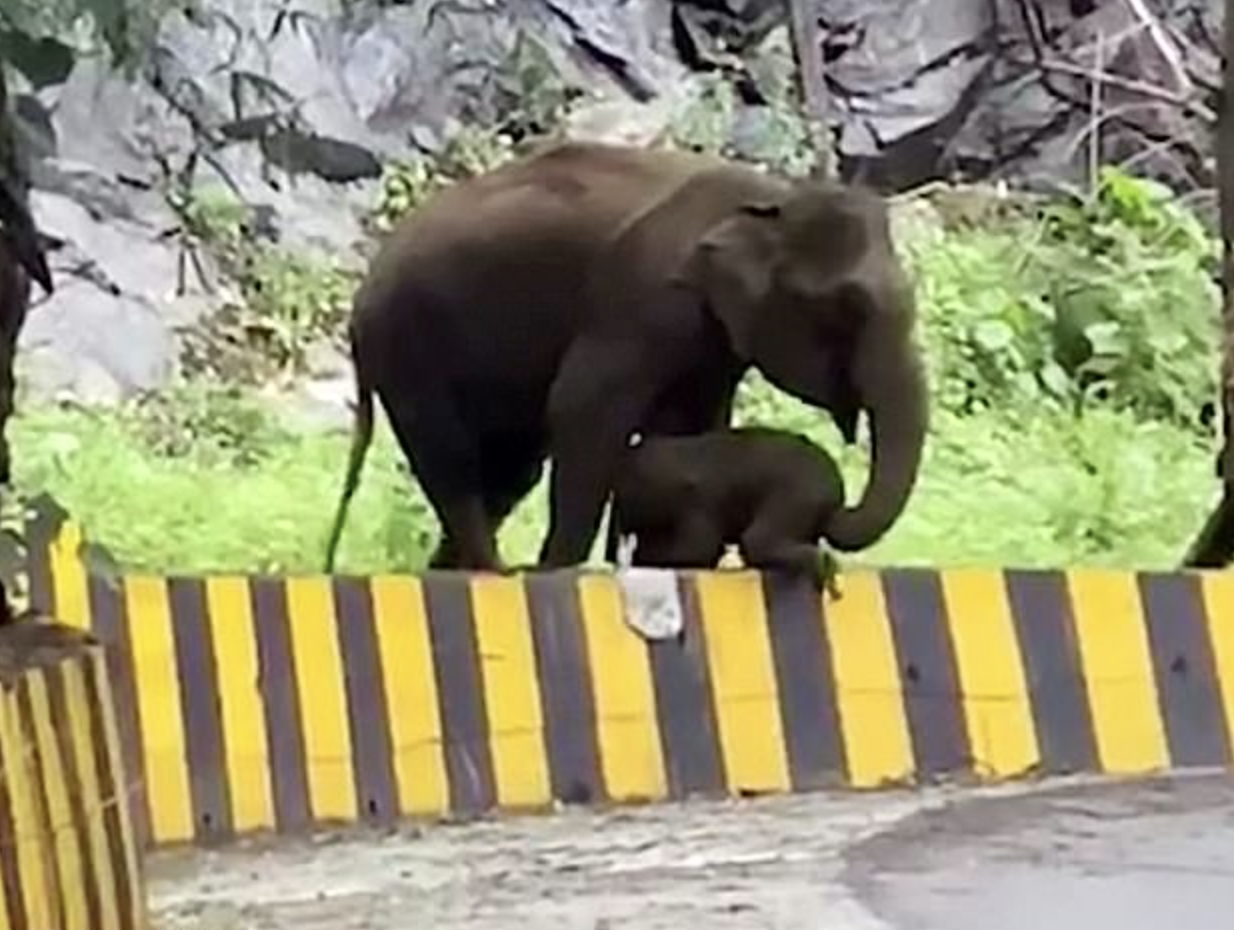 In the heart of a bustling jungle, a heartwarming tale unfolded, illuminating the unbreakable bond between a baby elephant and its mother. This captivating story begins with a daring act of bravery as the baby elephant, defying the dangers that lay ahead, musters the courage to scale a roadside barrier, setting in motion a sequence of events that would lead to its mother's heroic and victorious rescue.
The sun cast its golden rays upon the lush landscape, creating a vibrant tapestry of greenery and life. The air was filled with the symphony of chirping birds and rustling leaves, as nature's inhabitants went about their daily routines. Amidst this harmonious scene, a curious and adventurous baby elephant embarked on a journey that would test its strength and resilience.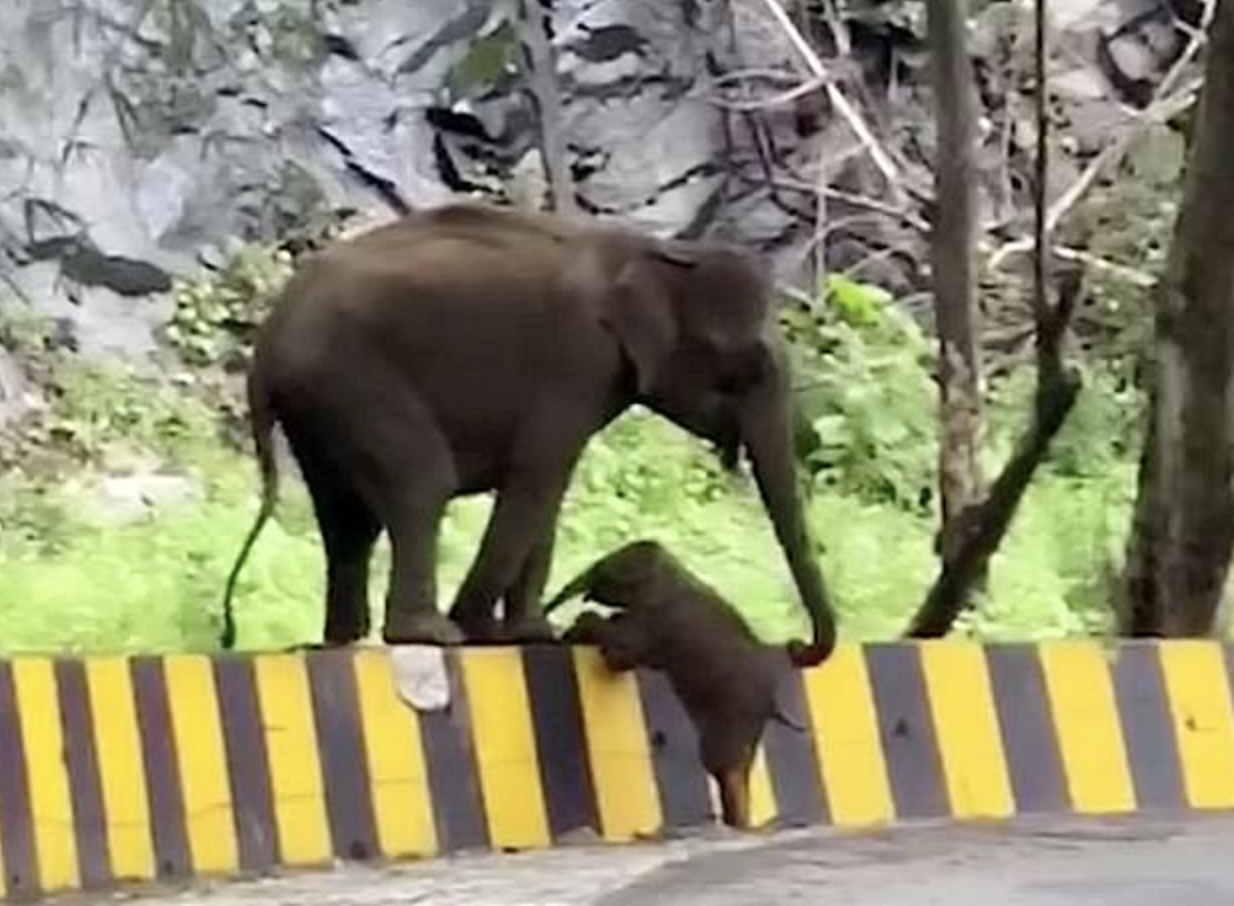 Venturing close to the edge of a busy road, the baby elephant's eyes were drawn to the other side, where tantalizing sights and scents beckoned. Unbeknownst to the innocent young creature, danger lurked just beyond the reach of its trunk. A tall barrier stood as a formidable obstacle, separating the baby elephant from its desires.
Driven by an indomitable spirit and an insatiable sense of exploration, the baby elephant made a bold decision. It summoned every ounce of strength and determination, planting its large feet on the ground, and began to scale the daunting roadside barrier. The onlookers stood frozen in a mix of awe and concern, their hearts pounding with anticipation.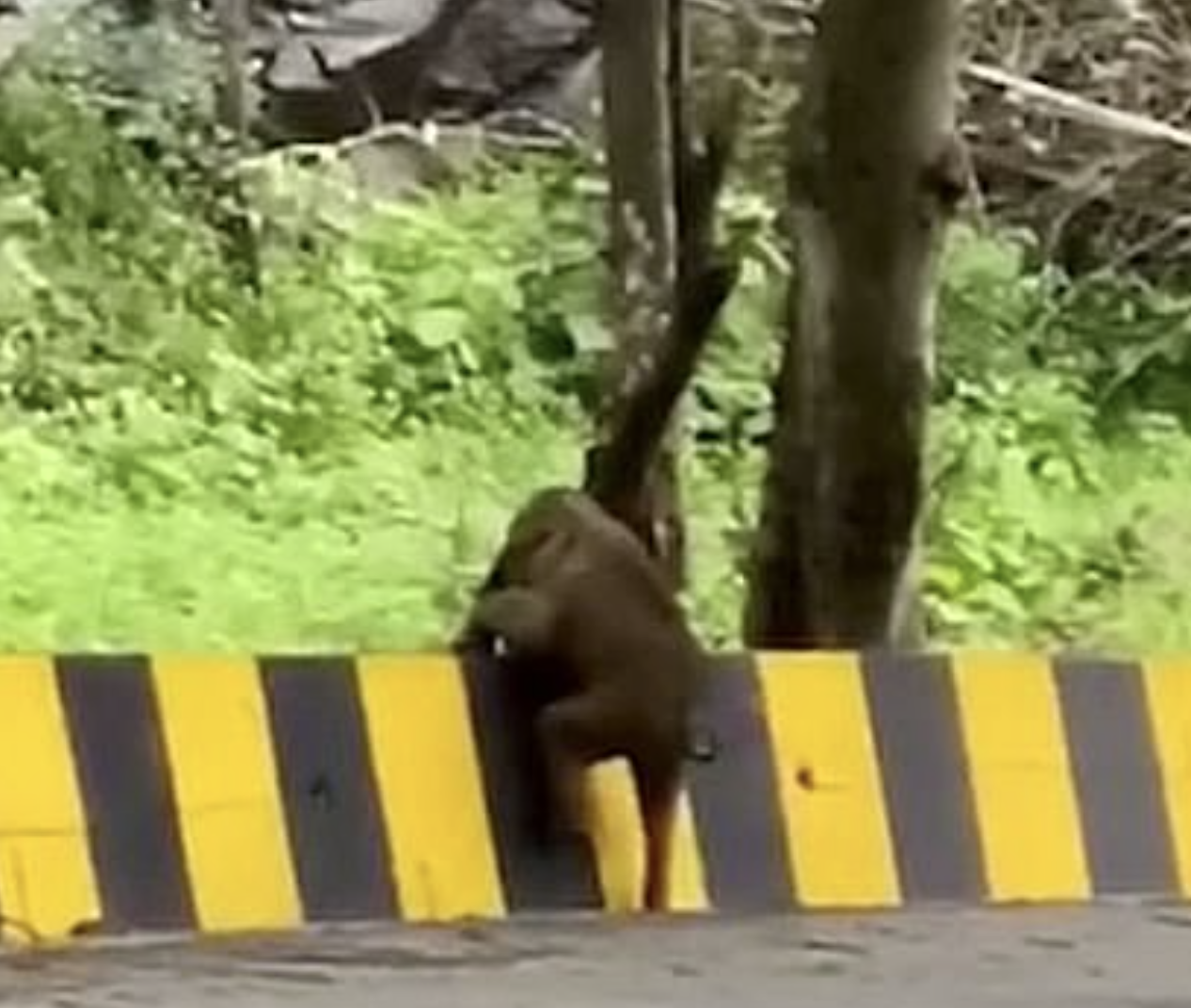 As the baby elephant inched higher, its movements fraught with risk, its mother, a mighty and protective force, sensed the impending danger. With a resounding trumpet, she sprang into action, her maternal instincts overriding any fear or doubt. Her eyes locked onto her beloved offspring, her heart filled with a fierce determination to rescue it from harm's way.
With a strength that defied comprehension, the mother elephant approached the roadside barrier. She, too, defied the odds, summoning her immense power and agility to navigate the formidable obstacle that separated her from her precious baby. The air crackled with anticipation as the mother elephant's muscles rippled beneath her majestic frame, her grace and determination a force to be reckoned with.
In a breathtaking display of strength and love, the mother elephant reached her baby's side. With gentle yet purposeful nudges, she guided the young one back to safety, away from the treacherous edge of the road. The collective sigh of relief from the onlookers mingled with triumphant trumpets from the elephants, their vocals harmonizing in a symphony of victory.
The scene that unfolded was one of pure awe and admiration. The baby elephant, safe in the embrace of its heroically protective mother, epitomized the enduring power of a mother's love. The onlookers, touched by this incredible display of bravery and resilience, were forever changed, their hearts brimming with a newfound appreciation for the unwavering bond between a mother and her young.