Smitharc has shaped a formidable Texan family house in suburban Dallas, using courtyards and setbacks to create a series of intimate spaces within a substantial plot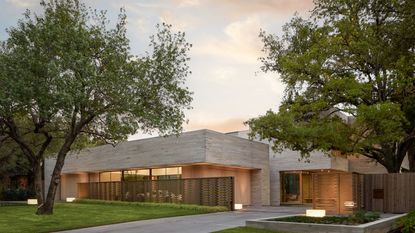 Set in Dallas's historic Greenway Parks district, this new Texan family house by Smitharc Architecture + Design makes the most of spacious plots and leafy outlooks, while also creating a series of secluded, private courtyard spaces away from the road.
Greenway House: a Texan family house by Smitharc
The two-storey house is arranged around a ground floor courtyard, with a garage and 'auto lounge' closest to the street, set behind a bespoke sliding metal fence. Supplementing the two-car garage, this glass-walled space is effectively an art gallery for cars, with the owner's Ferraris taking pride of place.
The entrance lobby is set back still further, adjoining a generous internal courtyard, around which the house's primary spaces are arranged. The long garden elevation includes an open-plan kitchen, dining and family room on the ground floor, with the far corner of the house occupied by a covered external lounge.
The ground floor also houses a bedroom suite, together with a scullery and laundry area. The staircase, which overlooks the central courtyard, rises up to the first floor level, running the length of the garden façade. Up here is a substantial main bedroom suite, complete with gym, salon, private roof deck and a large walk-in wardrobe.
Two separate bedroom suites share views across the rear yard, together with a den. A study sits above the entrance hall. Set back from the main street, the house presents a mysterious, opaque grey limestone façade to the public, with the bulk of the glazing directed inward and to the rear. The massing also steps up away from the street, a nod to the original bungalow on the site.
The interior scheme was developed by Erin Sander Design, working closely with the architects. The intention was to create distinct zones within the open-plan area, using materials and furnishings to set each space apart. Sculptural elements like the kitchen counter and the elaborate upstairs salon bring bold colour to the interior, standing out against the blonde cypress siding.
Inside, there is silver oak panelling, bleached cypress wood, and polished Grassello plaster, with high-gloss lacquer elements and bronzed aluminium cabinets. White oak flooring runs throughout the ground floor. Outside, bespoke concrete pavers were used extensively to shape and direct the paths and views across the garden, emphasising the enclosed and private nature of the house.