Two kittens, just recovered from an illness, allowed a Pitbull to better cope with the absence of his owner.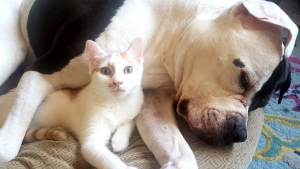 For some dogs, separation from their master is very difficult to bear. This can even generate a significant level of stress. Whether it is the fear of loneliness or abandonment, the animal has difficulty seeing its owner leave the house, to go to work for example. This was the case for Daisy , an 8-year-old Pitbull, until very recently. But the arrival of a pair of kittens at her home did her the world of good.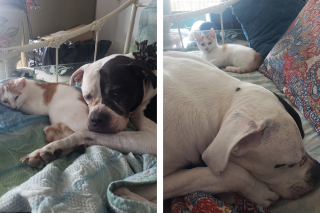 Daisy tried to stop her owner from leaving the house
Daisy is an 8 year old Pitbull mix. Despite her age, the dog was still very distressed to see her owner close the door of the house and leave. This fear was so deep-rooted that when she returned from walks, Daisy even hesitated to enter her home, for fear of finding herself alone again. And when Rosemarie , her human, tried to leave for work, Daisy put up a barrier between her and the door.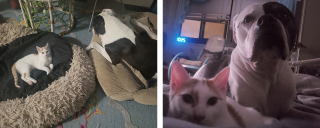 Rosemarie is a host family for the ASPCA
Things began to change when Rosemarie welcomed two kittens into her home. Daisy 's owner has been a foster family for the ASPCA since 2012. She keeps shelter animals in her home while she finds them a forever family, particularly to socialize them.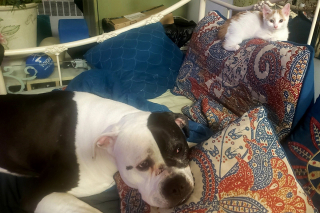 One day, Rosemarie came home with two kittens, Tulip and Scintille . These felines had been found in abandoned and dangerous houses. When they were received by the ASPCA, they were diagnosed with conjunctivitis and a respiratory tract infection. The babies were also infested with fleas.
Barely recovered, Tulip and Scintille brought comfort to Daisy
Tulip and Scintille were taken in and cared for by the ASPCA. Once in better shape, both cats began to play an instrumental role for Daisy . As if they had sensed the dog's discomfort, as soon as Rosemarie was away from the house, Tulip and Scintille came to snuggle up to Daisy and bring her comfort.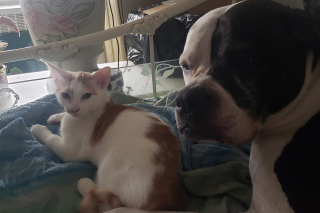 Little by little, the Pitbull's separation anxiety eased. The presence of cats did him a lot of good. According to Rosemarie , " Daisy always wanted to be a mom and she loves kittens ," as reported by Daily Paws . " They sleep and play together. Tulip mainly has a calming effect on Daisy. "
Faced with this observation, Rosemarie made a decision: adopt the kittens! This will not prevent him from continuing his role as a foster family for other ASPCA animals.