Video:
\
In the heart of the African wilderness, a poignant story unfolds, revealing the deep emotional connection and heart-wrenching remorse of a mother elephant as she witnesses her baby fall victim to a ruthless hyena assault. The bond between mother and child is tested in the face of danger, leaving the sorrowful mother grappling with profound guilt for her perceived failure to protect her precious offspring.
Under the golden rays of the setting sun, the sprawling savannah stretches into the horizon, a vast canvas painted with life and untamed beauty. The mother elephant, with her regal presence and wise eyes, guides her playful baby through the grassy plains. The air buzzes with the sounds of nature, a symphony of birdsong and distant roars.
Unbeknownst to the mother elephant, lurking in the shadows, a cunning hyena pack watches their every move. The hyenas, driven by a predator's instinct, perceive the vulnerability of the young elephant and seize the opportunity with ruthless determination. They close in, their eyes gleaming with hunger and anticipation.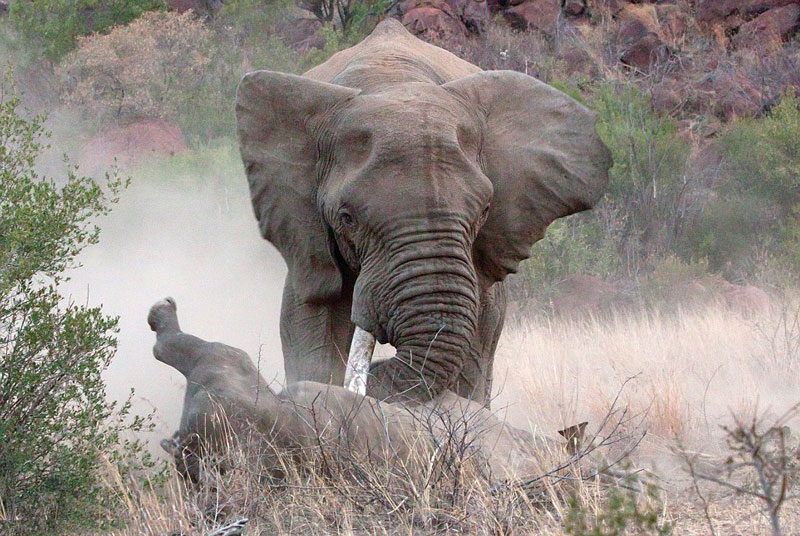 In a sudden burst of ferocity, the hyenas launch their assault, their laughter piercing the tranquility of the savannah. The mother elephant's heart skips a beat as she senses the danger, but her instincts kick in, driving her to protect her beloved calf at all costs. With a resounding trumpet, she charges at the hyenas, her massive frame a formidable shield.
But the hyenas are relentless, their cunning matched only by their ruthlessness. They swarm around the mother elephant and her baby, their sharp teeth and piercing growls instilling fear in the hearts of all who witness their savagery. Despite the mother's valiant efforts to shield her precious offspring, the hyenas manage to overpower her defenses, their relentless assault focused on the vulnerable baby.
Helplessly, the mother elephant witnesses the horror unfold before her eyes. Her eyes well up with tears as she trumpets a mournful cry, a lamentation of her perceived failure to protect her baby from harm. Her heart shatters with remorse, feeling the weight of responsibility for the tragedy that unfolds.