Video:
In the untamed wilderness of the African savannah, a riveting tale unfolds, showcasing the relentless quest for vengeance of a mighty lion against a pack of audacious wild dogs who dared to pilfer its well-deserved meal. Fueled by a burning fury and an unyielding thirst for justice, the lion embarks on a perilous journey, determined to reclaim what is rightfully theirs.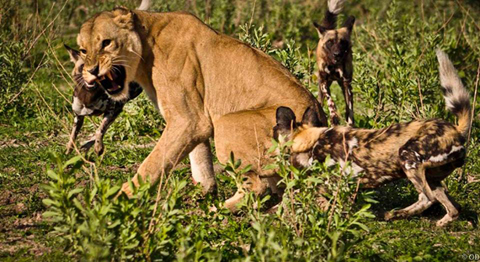 Under the scorching sun, the vast plains stretch as far as the eye can see, teeming with a myriad of wildlife. The lion, with its regal mane and commanding presence, stands proud beside its hard-earned kill—a freshly taken wildebeest. But before the lion can revel in its triumph, a brazen pack of wild dogs, known for their cunning and opportunistic nature, swoops in, snatching the meal from under its very nose.
A thunderous roar escapes the lion's throat, shaking the ground beneath its paws. Its eyes burn with a mixture of anger and determination as it watches the wild dogs make off with the stolen prize. In that moment, a seed of vengeance takes root within the lion's heart, propelling it into action.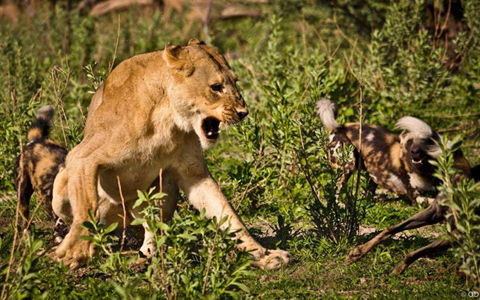 With a powerful stride, the lion sets off in pursuit of the thieving pack. Every muscle in its body tenses with a singular focus—to retrieve what was unjustly taken. The lion's thundering roar reverberates through the plains, a warning to all who dare stand in its way.
Through grasslands and thorny thickets, the chase unfolds, the lion closing the distance with each determined stride. The wild dogs, sensing the impending danger, scatter in all directions, their laughter replaced by a mix of fear and panic. But the lion, relentless in its pursuit, narrows its gaze on the leader of the pack—the one responsible for the audacious theft.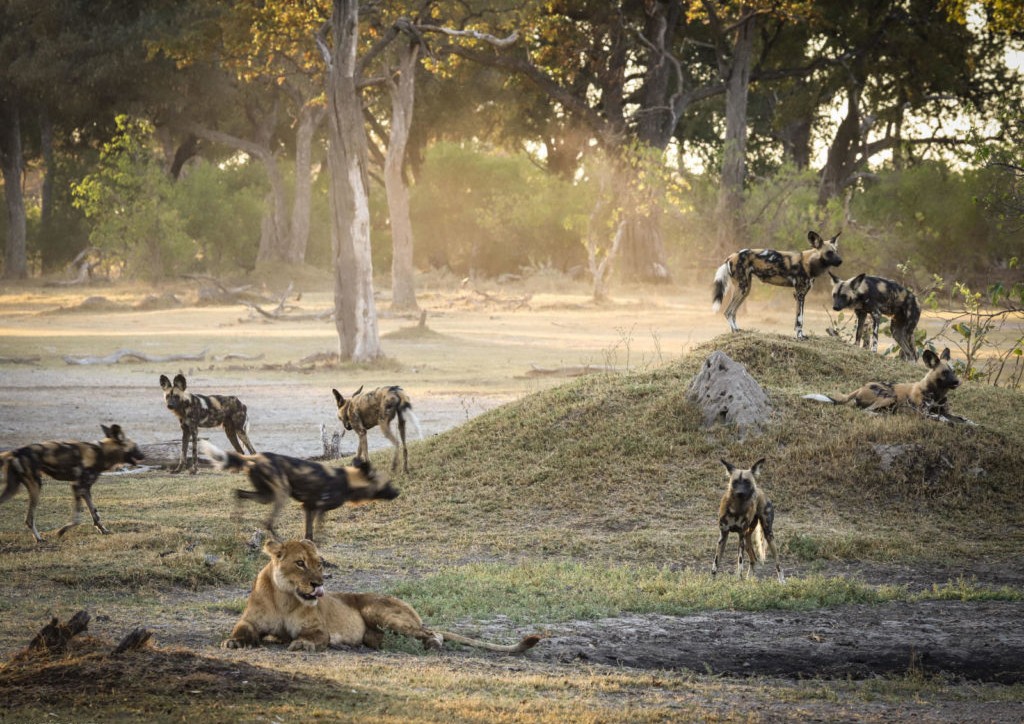 With a burst of speed and a ferocity unmatched, the lion lunges at the leader of the wild dogs, its powerful jaws aiming to reclaim its stolen meal. A fierce battle ensues, a clash of strength and agility. The lion's mighty paws swipe with precision, while the wild dog leader dodges and weaves, attempting to defend its ill-gotten bounty.
The savannah becomes a theater of primal fury, dust swirling in the air as the lion and the wild dog leader engage in a fierce struggle. The lion's roars echo through the wilderness, a testament to its unyielding determination to right the wrong that has