In the heart of the vast African wilderness, a gripping tale of predator and prey unfolds, leaving all who witness it in a state of distress. It is the story of a lion, driven by its primal instincts, launching a sudden and ferocious attack on a wild buffalo in the middle of a dusty road. The air trembles with tension as the unfortunate event unfolds, casting a shadow of unease upon all those who bear witness to the raw and unforgiving cycle of life in the wild.
The sun hangs high in the sky, casting its golden glow upon the untamed landscape. The wild buffalo, a symbol of strength and resilience, ambles along the dusty road, unaware of the imminent danger lurking in the shadows. With each confident step, it unknowingly approaches a moment that will forever alter the course of its existence.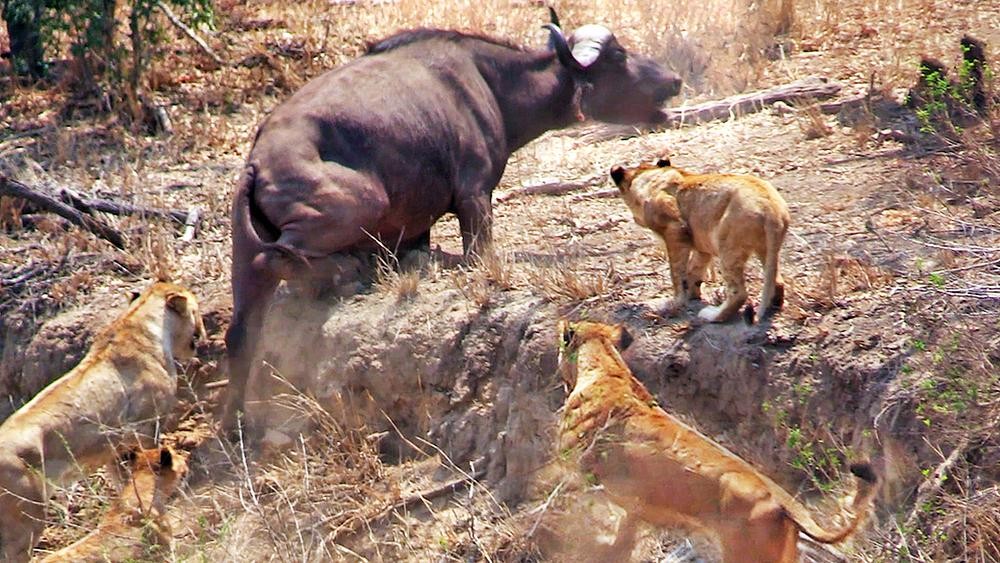 Crouched in the tall grass nearby, the lion patiently awaits its opportunity, its amber eyes fixed upon the unsuspecting buffalo. Muscles tense with anticipation, it embodies the apex predator, ready to unleash its primal power in a single, swift motion. In an instant, the lion springs forth, its powerful limbs propelling it toward its prey.
The suddenness of the attack sends shockwaves through the air, causing distress to all who witness the unfortunate event. Gasps of alarm escape the lips of onlookers, their hearts heavy with a mixture of awe and empathy. A collective murmur rises, a chorus of concern for the buffalo's fate, as the predator and prey collide in a chaotic confrontation.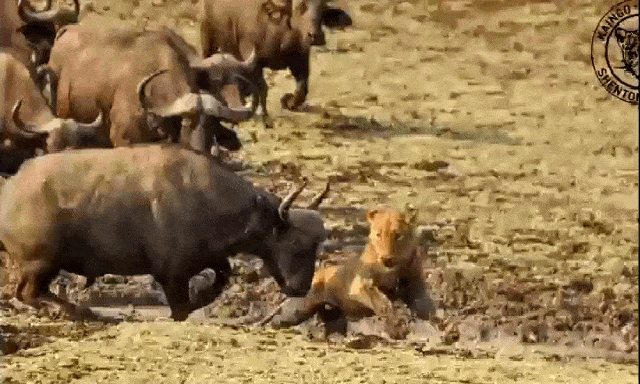 The buffalo, caught off guard by the lion's lightning-fast assault, responds with a surge of primal strength. A fierce battle ensues, a ballet of survival, as the two mighty adversaries clash amidst the dust and the beating sun. The air fills with the sounds of snarls, grunts, and the rhythmic thud of hooves against the hardened earth.
Witnessing the struggle, a sense of helplessness washes over those gathered, their hearts torn between the raw beauty of nature's dance and a deep-rooted empathy for the buffalo's plight. They are mere spectators, caught in the grip of a primal spectacle that transcends their understanding, yet stirs something deep within their souls.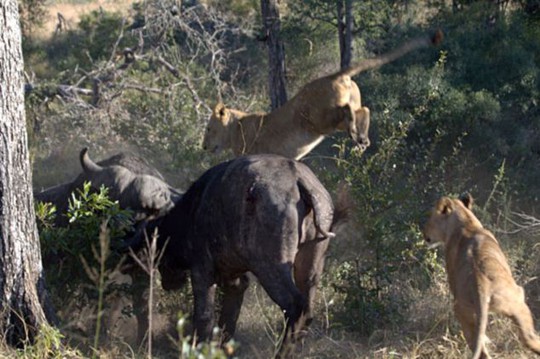 As minutes stretch into eternity, the struggle reaches its climax. The lion, driven by hunger and determination, gains the upper hand, its powerful jaws clamping down on the buffalo's vulnerable neck. The buffalo's valiant resistance falters, its strength waning as life's delicate balance tips in favor of the predator.
Silence descends upon the scene as the lion's victory becomes evident. A profound sadness settles upon the witnesses, their hearts heavy with the knowledge that the cycle of life has run its course once again. The lion, now satiated, stands as a majestic conqueror, while the fallen buffalo becomes a poignant reminder of the harsh realities of the natural world.