Adding a rock garden to your yard is a creative way to add depth and dimension to a flat or mundane space, or to introduce an element of surprise. The rugged appearance of rock adds earthy appeal, connecting a manmade landscape to the natural world.
Rocks can be used to define a slope, act as a substitute for a lawn, or become a solution to an area where little will grow. Different areas of the yard such as walkways and beds can be outlined or separated with an attractive arrangement of rocks, pebbles or gravel. A rock garden can range from a complex large-scale project with many aspects and layers, to something as simple as a small corner adorned with gravel and river stones. Even a container can become a miniature rock landscape.
Rock gardens are low-maintenance and lend year-round structure to the landscape. In order for your finished project to have cohesion, it should be well thought out and designed. Here are some basic principles to get you started, along with a list of recommended plants.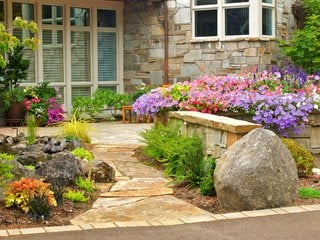 Think outside the box. Even a front yard can be the site of a rock garden, such as this entryway shown here. Designer: Philip Thornburg, Winterbloom Landscaping. Photo: Janet Loughrey.
Choose and evaluate your site.
Where would a rock garden look best in your yard? Is the site in sun or shade? Will plants need regular water, or will it be a drought-tolerant landscape? Don't be afraid to think outside the box. Even a front yard can have a rock garden.
Research.
Gather ideas by looking at photos of rock gardens on the internet and by visiting local gardens. Make an idea board or list with attributes you want to include.
Draw up a design.
Once you have some basic ideas, make a plan and draw a rough sketch. For a bigger project, you may want to consult with a landscape designer. Larger rocks are a challenge to lift and set in place, so it's crucial to know ahead of time where you want them.
Consider scale.
Use materials that are in scale with your home and yard. Big boulders can overwhelm a small space, while small stones will get lost in a sweeping landscape.
Choose a style.
Rough irregular rocks add rugged natural appeal, while smooth pebbles or clean white gravel lend a more formal appearance, such as with Japanese rock gardens and Zen rock gardens. Create a look that complements your home's style as well as the rest of the yard.
Keep it natural.
Take a cue from Mother Nature by making the rock garden look like it belongs. This will make the design more visually pleasing and cohesive with the rest of the yard. Random groupings of stones will look more natural than placing them in neat rows or organized patterns. Incorporate a water feature or stepping stones to enhance the natural appeal.
HOW TO BUILD A ROCK GARDEN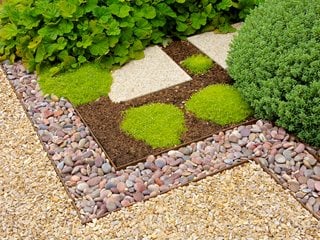 Vary materials such as pebbles, gravel and stepping stones to make a more visually interesting landscape. Designers: Adriana Berry, Plant Passion Design. Photo: Janet Loughrey.
Make a list.
In order to have the right materials on hand, make a list of what you need.
Source materials.
Peruse local garden centers, home improvement stores and specialty rock suppliers to see and compare materials before buying. For the budget-minded, Craigslist and Freecycle often have listings from people looking to get rid of rock materials. Consider rock quarries or natural areas that allow rockhounding.
Vary the rocks.
To create contrast and visual interest, vary the size and shape of the rocks. Use a mix of materials such as stones, pebbles and gravel.
Placement.
Use a few well-placed larger rocks as primary focal points to anchor the space and install those first. Allow space between the rocks for plants to grow. Smaller complementary stones or gravel placed around the larger rocks will unify the design.
Keep color in mind.
Select larger rocks in lighter hues so the landscape doesn't feel dark and heavy. Vary the color and tone of other materials to lend contrast and visual interest.
Instill order.
To keep the design from looking too busy, choose rocks with complementary colors and shapes. Lay out swaths of the same pebbles or gravel rather than mixing too many materials together.
HOW TO PLANT A ROCK GARDEN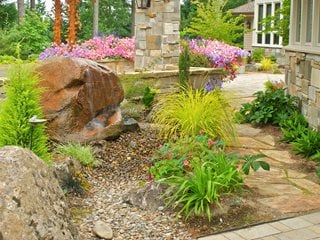 This rock garden features plants that thrive in partial shade, including ferns, bleeding heart, hellebores and 'Bowles Golden' sedge (Carex). Designer: Philip Thornburg, Winterbloom Landscaping. Photo: Janet Loughrey.
Soil matters.
Create an environment that is hospitable to your chosen plants. Alpine plants and other drought-tolerant plants will need sandy soil with sharp drainage. Others, such as ferns and hostas, will need richer soil and more moisture.
Pick the right plants.
Choose plants that will thrive in your climate. Traditional rock gardens include varieties that are alpine in origin, as the conditions simulate their native habitat. Rock garden plants tend to be smaller to complement the scale of the rocks. Use perennials, ornamental grasses and small shrubs to add vertical height. Creeping groundcovers will soften the appearance of the hard rocks. Add sturdy bulbs such as narcissus, wild tulips and alliums for contrast. Incorporate evergreen dwarf and creeping conifers for year-round interest. For a shade garden, choose mosses, ferns and hostas.
Complement and contrast.
To lend cohesion, choose plants with harmonious or complementary colors to the rocks. Use a mix of plants with flowers and foliage interest and combine upright and creeping forms.
ROCK GARDEN PLANTS
| | Sun | Shade |
| --- | --- | --- |
| GROUND COVERS | Sedums, succulents, creeping thyme, snow-in-summer (Cerastium), creeping phlox, gold alyssum (Aurinia), ice plant (Delosperma). | Mosses, creeping Jenny, ajuga, deadnettle (Lamium), vinca, sweet woodruff. |
| PERENNIALS | Sedges and other small ornamental grasses, dwarf conifers, dianthus, rockcress (Aubrieta), columbine, speedwell, lamb's ear, bellflower (Campanula). | Ferns, coral bells, hostas, hellebores, astilbe, lungwort, columbine, barrenroot (Epimedium). |
| BULBS | Species tulips, narcissus, crocus, squill, reticulated iris, alliums. | Snowdrops, narcissus, muscari, squill, crocus, anemone, tuberous begonias, caladium. |
MAINTAINING A ROCK GARDEN
Water.
Rocks absorb heat, especially in a sunny site, so plants can dry out quickly. Make sure plants receive adequate water, especially during hot spells.
Fertilize.
Some plants such as alpines and succulents need little or no supplemental fertilizer, while others such as coral bells and hostas will benefit from a boost of nutrients. Research your plants needs and fertilize accordingly.
Weed.
A layer of smaller rocks or gravel acts as a natural weed suppressant, helping to keep the landscape low-maintenance. Keep areas free from weeds so plants don't get overwhelmed or deprived of water and nutrients. Eventually, plants should fill in enough to suppress most weeds.
Prune.
Cut out dead growth and remove spent flowers to encourage new growth and keep a neat appearance.
ROCK GARDEN IDEAS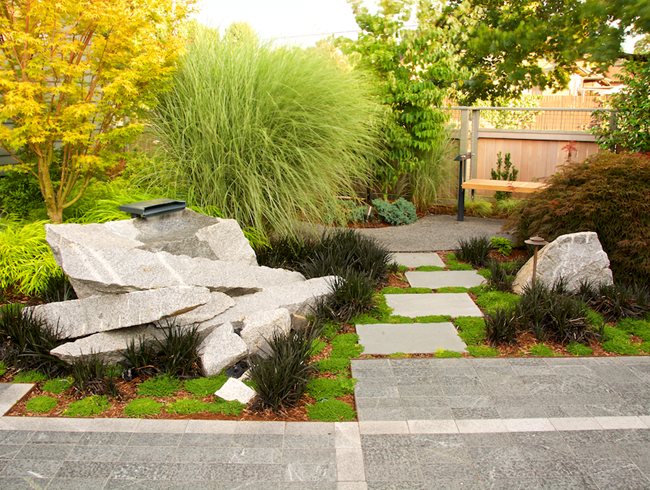 Keep rocks in scale with the yard. In this small space, rocks are stacked to create a sculptural water feature, while a single boulder placed strategically on the other side of the path helps balance the composition. Designers: Barbara Hilty and Adriana Berry. Photo: Janet Loughrey.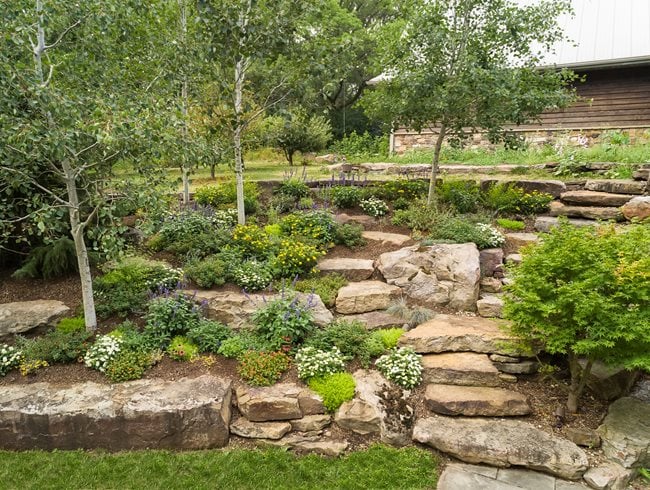 See more of this garden, including before/after photos and plants used. Photo by: Proven Winners.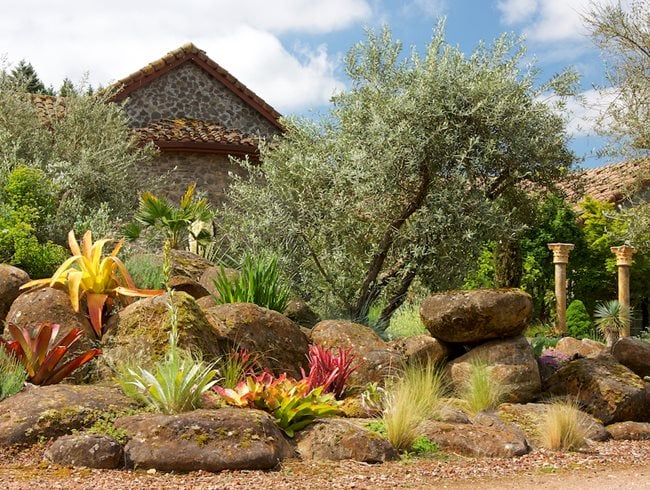 Designer Burl Mostul, Villa Catalana. Photo: Janet Loughrey.
Pick a style that matches your home and landscape. This Asian-style rock garden evokes a sense of calm and order. Designer: Helena Wagner, 4 Seasons Gardens. Photo: Janet Loughrey.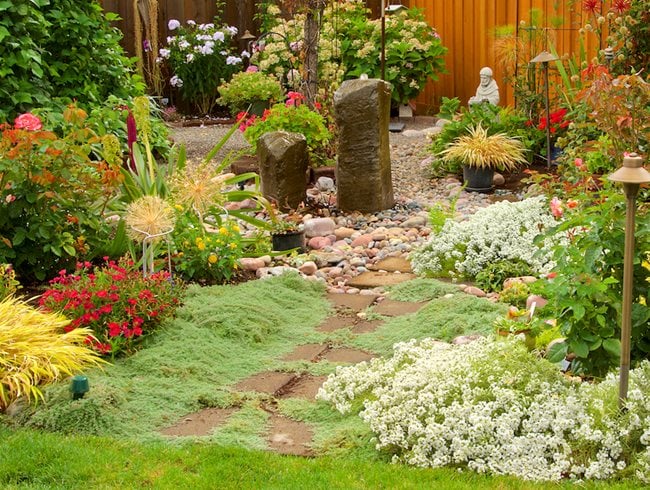 Creeping groundcovers such as woolly thyme can be used to soften hard rock surfaces. Gardener: Karen Olberding. Photo: Janet Loughrey.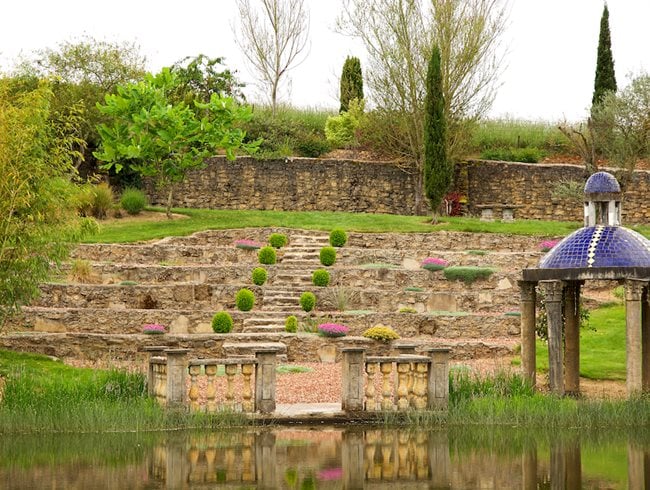 Large scale rock garden or hillside terrace. Designer: Burl Mostul, Villa Catalana. Photo: Janet Loughrey.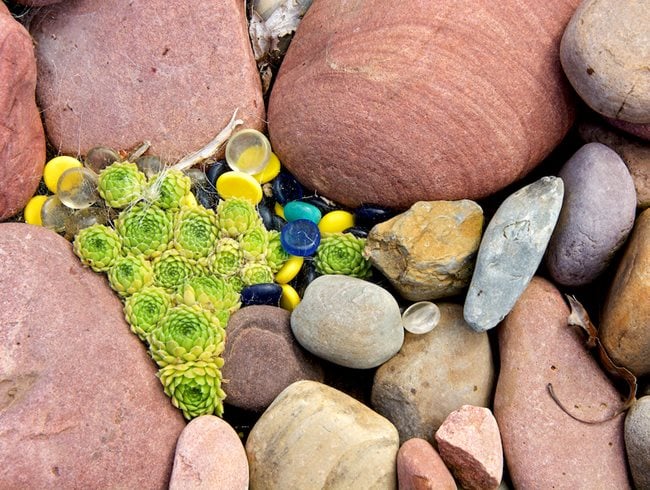 Leave spaces between rocks for plants to grow. Gardener:: Karen Olberding. Photo: Janet Loughrey.