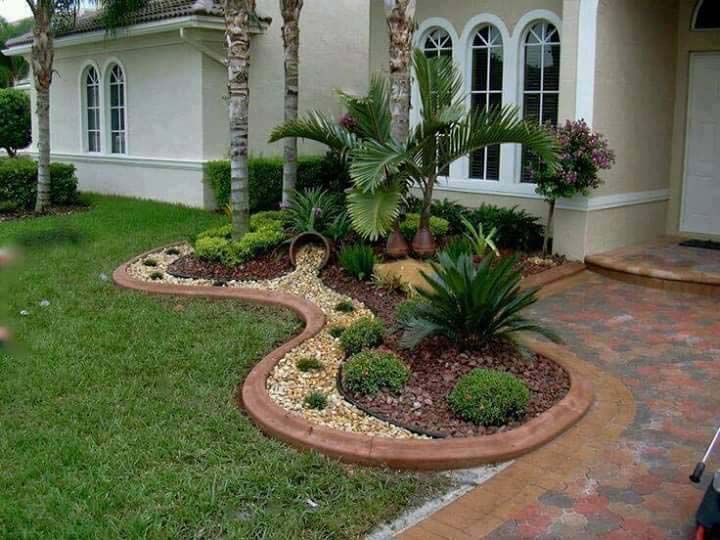 If you have left only a small part of the front yard for a garden, you can transform it into a dry creek. Materials like small pebbles, gravel and mulch come in help to shape the faux creek.
2. Geranium Garden Bed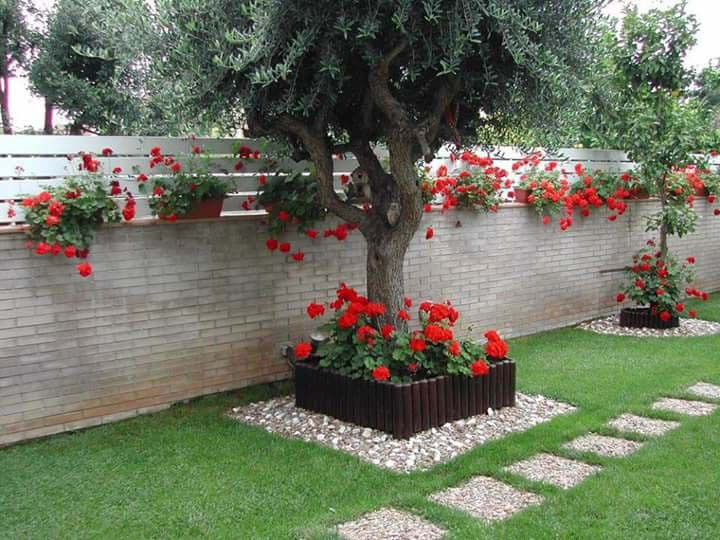 This is a low-maintenance garden idea. Geraniums are planted in flower beds around trees. The same flower variety decorated the top of the fence. The red color of the blooms creates a bright living accent to the rustic garden.
3. Relaxing Corner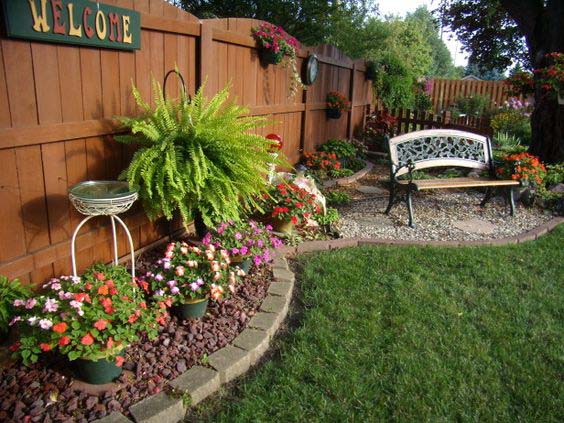 Create a small corner in the yard that is dedicated only to relaxation. You don't need many pieces of furniture. One or two chairs or a bench are sufficient to welcome you for a quiet sit and observation of the surroundings.
4. Walkway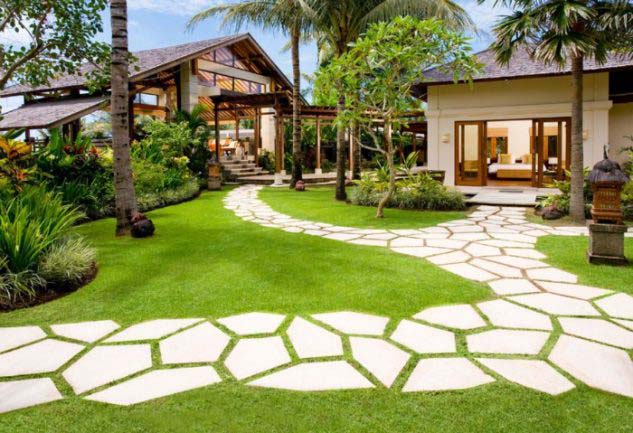 Creating a walkway through the perfectly maintained lawn will improve the curb appeal of your property. Plus, the walkway is a functional part of the landscape leading you through the garden to the entrances of the house keeping your shoes clean.
5. Stepping Stones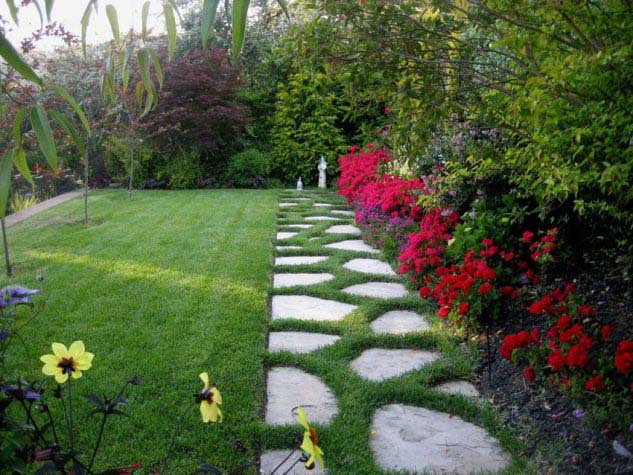 The walkway can be a simple stepping-stone arrangement. As you can see from this idea, flagstones are dug into the ground so that the grass grows in the gaps and embraces the stones.
6. Edging Garden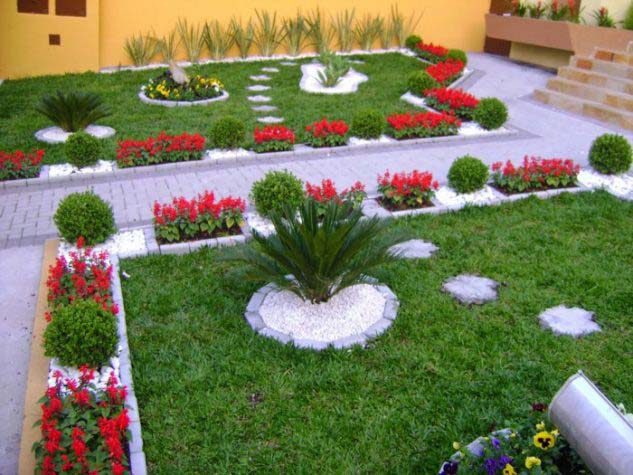 Edging gardens are another easy way to upgrade the landscape. Usually, they are made along the fence, along the lawn or along a pathway. The easiest edging garden design is with flower pots but if you have time, you can make garden beds in the ground and decorate them with pebbles.
7. Mulch Front Garden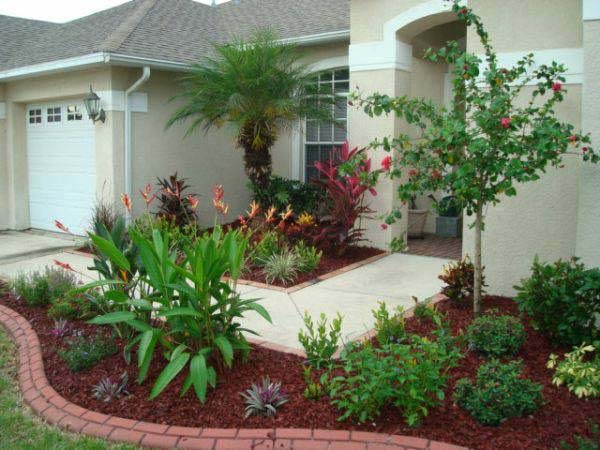 Mulch is a good fertilizer and also landscape decoration.
This garden idea features a front yard garden with a mulch overlay, creating a beautiful greenery backdrop.
8. Corner Dry Creek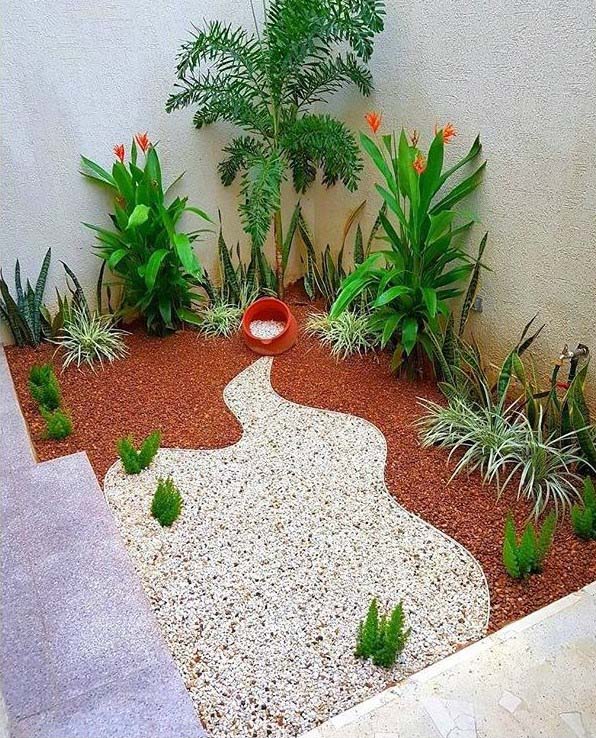 Rock gardens can be created in any part of the property, even in a covered area. As you can see from this garden idea, the rock garden is built in a corner of the covered porch.
The flower varieties are drought-resistant and surrounded by small gravel.
9. Curved Pattern Rock Garden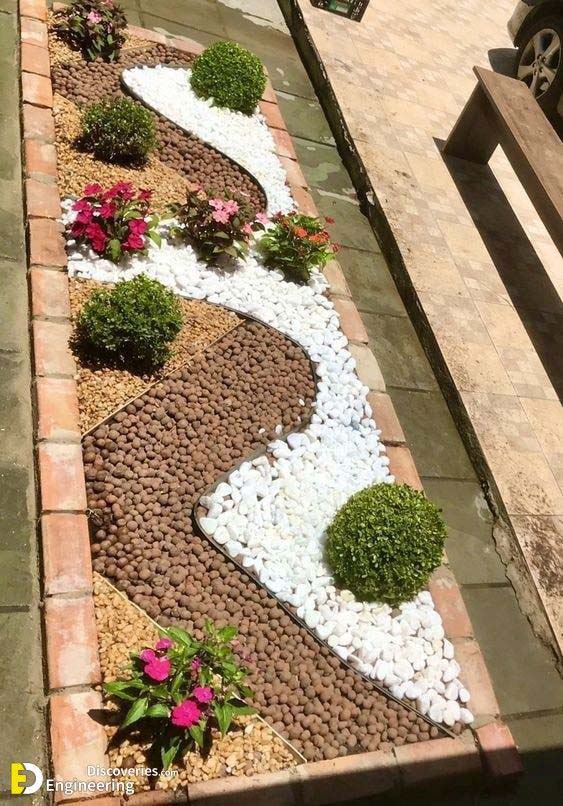 This small rock garden in this garden decor idea acts as an oasis in the covered garden area. The garden is created in a section for the yard lined with concrete and tiles.
Different gravel colors and sizes are filled in areas differentiated with a liner to make a whimsy decor pattern.
10. Gravel Garden
In this idea, the garden separates a walkway from a covered front yard. Two colors of gravel outline curved lines in the garden. Gravel acts as a natural drainage system and also as a decoration.
11. Edging Garden And A Walkway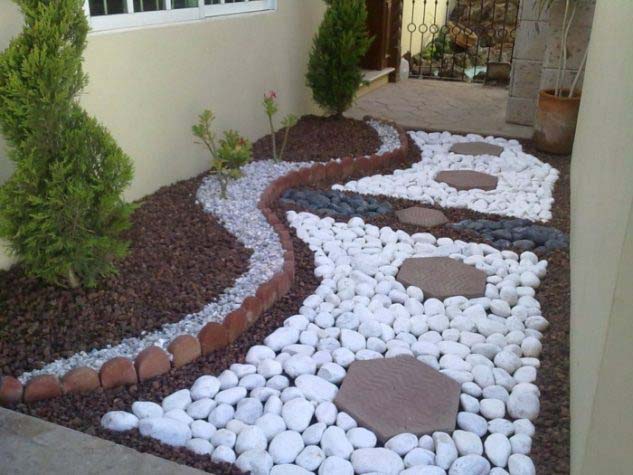 An edging garden and a walkway can be made with affordable materials. A sack of river stones, a sack of grey gravel, a sack of brown gravel, pavers and roof tiles.
12. Fountain Accent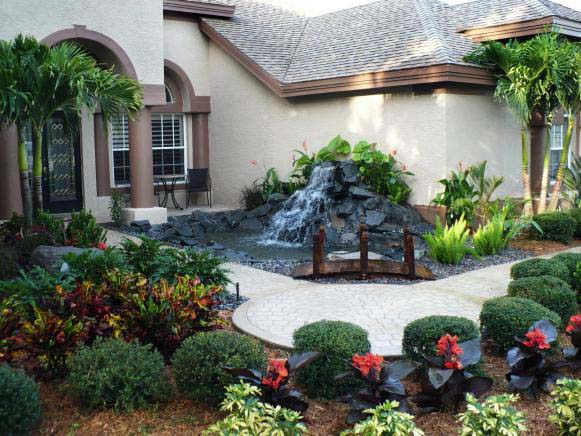 Water features instantly give the landscape a more relaxing and stylish look. In this garden decoration idea, the fountain pours down stacked stones and flows into a small yard lake.
The water feature is surrounded by plant varieties suitable for humid conditions. A small bridge from wood resembles a woodsy landscape on a smaller scale.
13. Fence Garden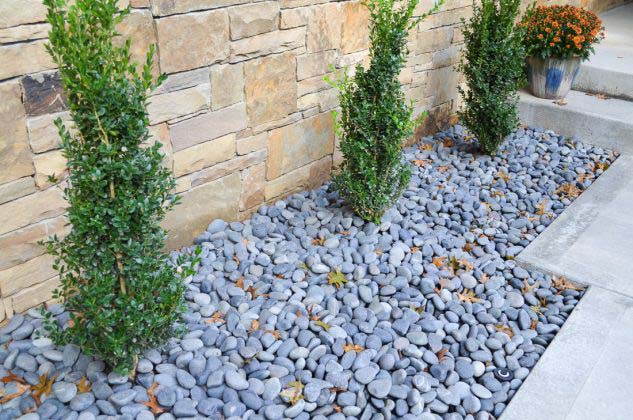 This is a fantastic and easy-to-recreate combination of evergreen shrubs and grey stones. This type of garden creates a visual transition between the fence and the yard.
14. Small Garden In A Basket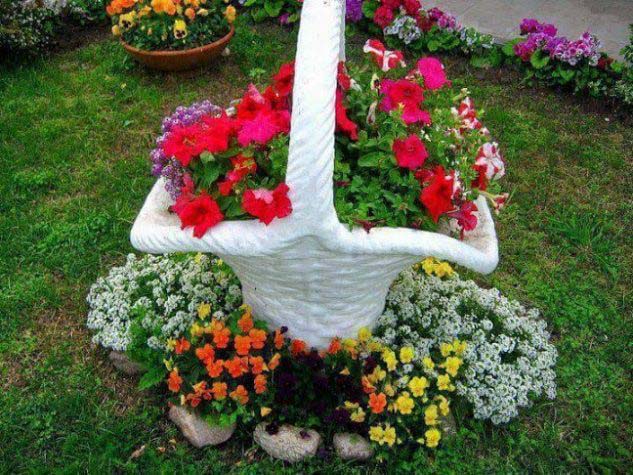 Make a focal point in the garden with an upcycled picnic basket and blooming flowers. The basket is used as a mold for the central piece of the arrangement. A concrete mixture is poured on it to turn it into a weather-proof planter.
15. Cottage Garden Leading To The Front Door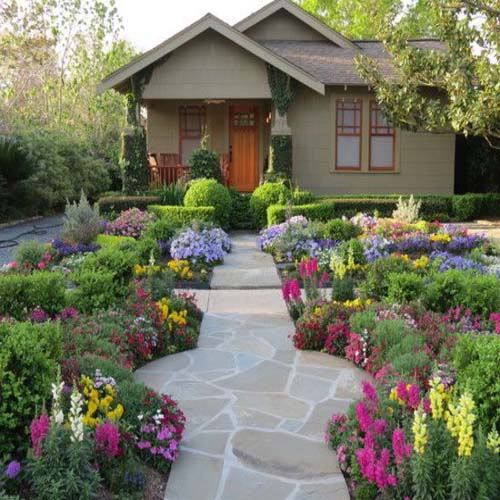 This garden resembled a landscape from the field – numerous tufts of blooming flowers in a wide variety of colors alternating with green shrubs. The cottage garden welcomes with its vivid colors and scents every person and accompanies them to the front door.
16. Rustic Edging Garden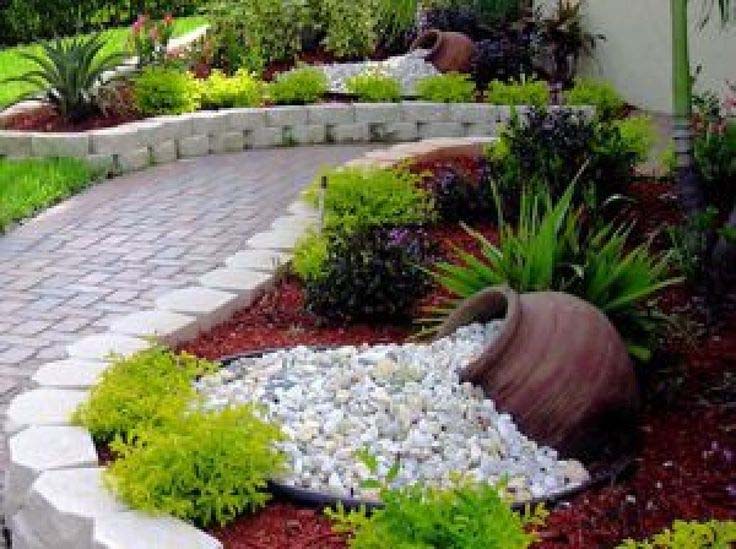 You can repurpose a pond basin to make easily a dry creek garden bed. A rustic pitcher or a terra cotta pot can act as the source of the creek.
17. Curved Walkway To The Gate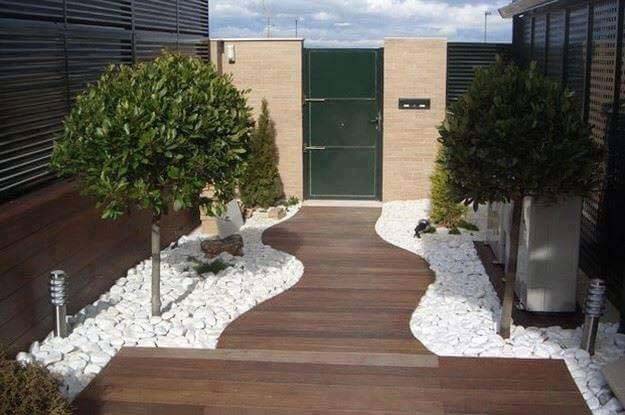 This walkway is made from decking slats. It mimics a creek with a curved shape leading through a rock garden to the gate. Large river rocks cover the soil of the edging gardens to match the creek's visual idea and ensure low maintenance.
18. Tiered Tire Garden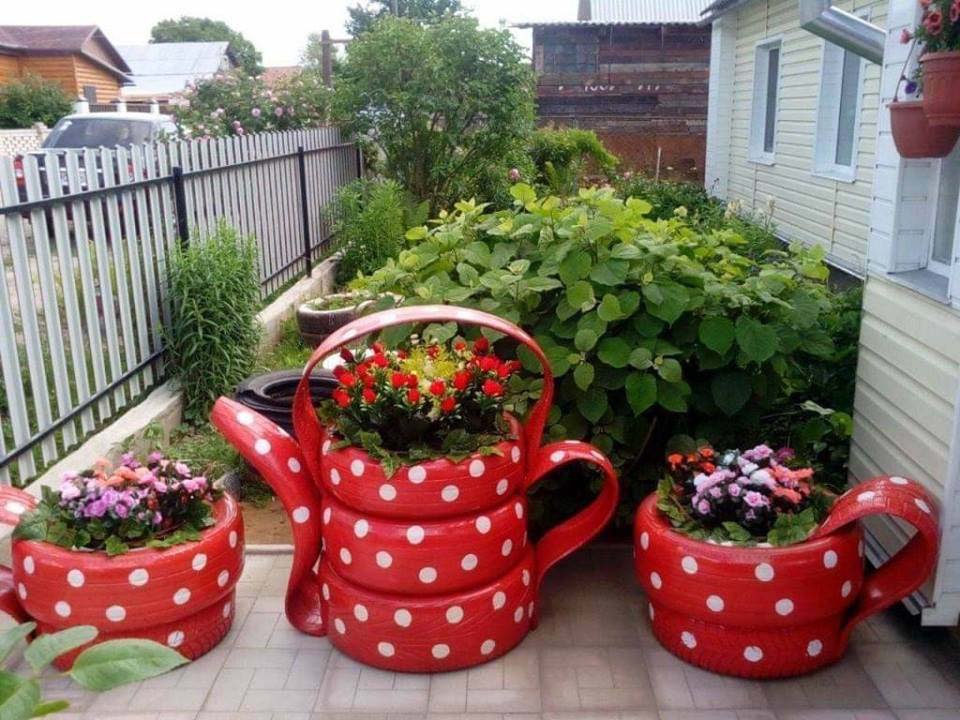 This is a great recycling garden project! Teapots are made from old tires and are repurposed into flower stands. The polka dot decoration makes this garden decoration very cheerful!
19. Sitting Corner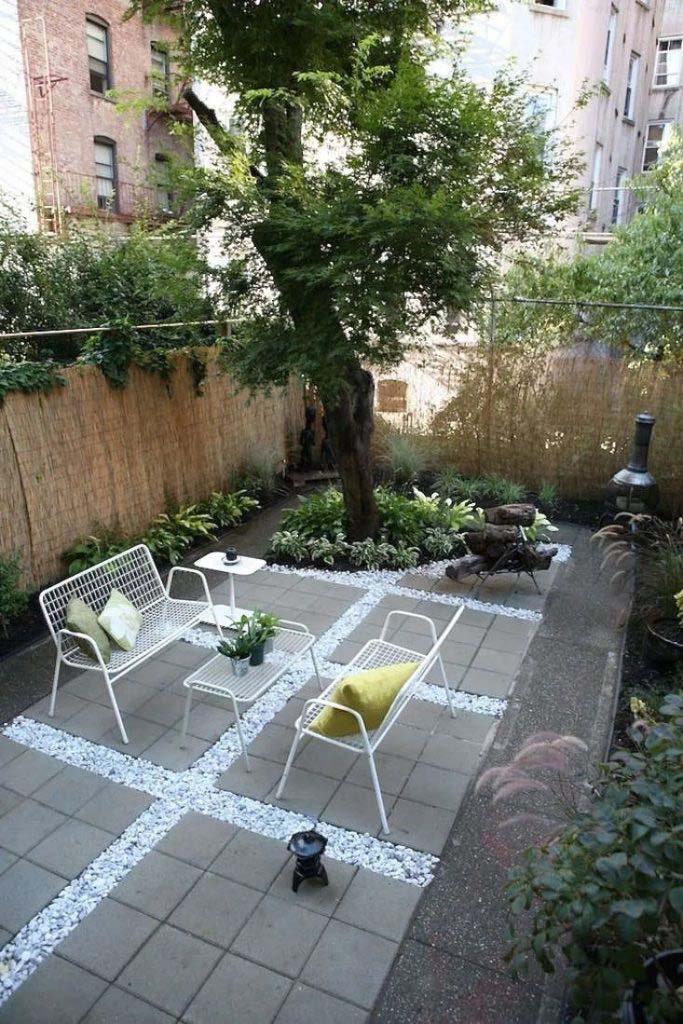 Make an outdoor sitting area where you and your family can sit for a while and enjoy the surroundings and the fresh air. If you are looking for a budget-friendly furniture set, you can make one out of pallets.
20. Asian-inspired Garden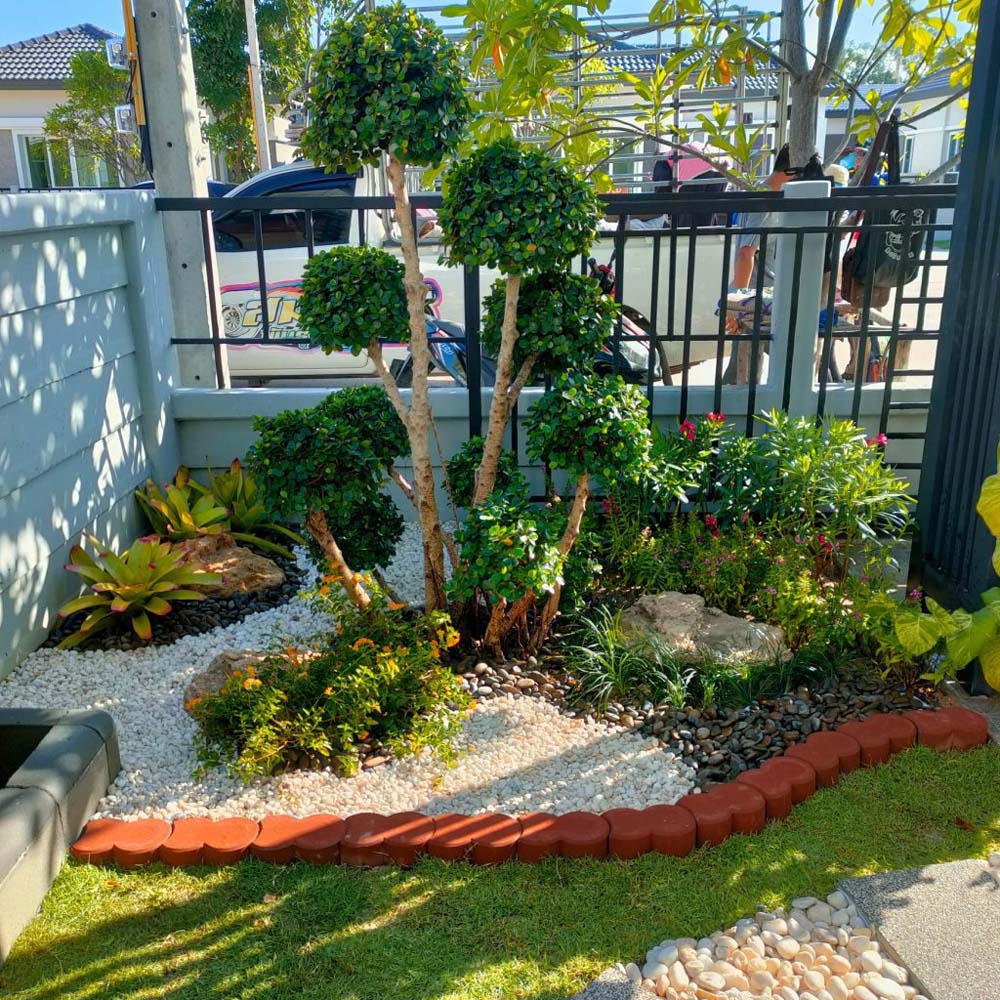 Make a small nook in the garden with an exotic flair. Rock gardens with polished black stones alternating with white pebbles are a mark of the Japanese landscape.
21. Exotic Garden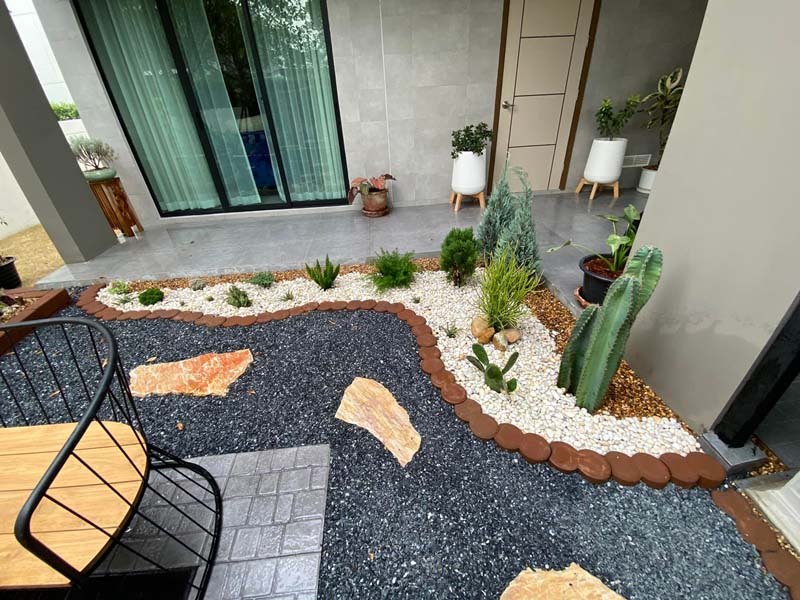 The plant varieties you choose for your garden can instantly change its look. Blooming seasonal flowers are related to cottage types of gardens. If you plant succulents and cacti, the garden will get a more exotic look.