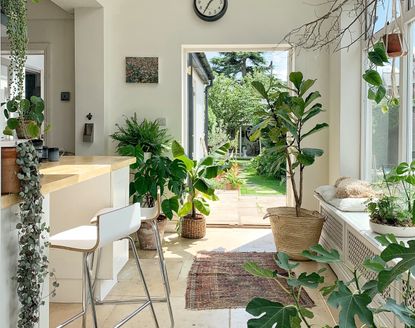 (Image credit: Dee Campling)
'Spring, is the perfect time to plant seeds and start growing your own garden indoors. During spring plants get the best conditions they need to begin to grow because spring gives a mixture of sun and rain. The rainwater gives them the hydration they need and longer days means more daylight and warmth from the sun, helping raise temperatures of both the air and the soil.'
1. START INDOOR GARDENING WITH HERBS
Herbs, naturally, have so much texture to them, and with the added bonus of being both edible and fragrant also, an indoor herb garden is a great starting point for beginners.
Save space and make them even more of a feature in your kitchen with a tiered pot display like the Ikea Bittergurka – perfect if you have a tiny kitchen and need to save valuable worktop space. You can hook together as many as you need, and then when you need to use them in your cooking or want to have them on hand to garnish your dinner, just can just unhook your herb of choice and pop it on the table.
Mint is a lovely and east herb to start with, 'Fortunately, growing mint indoors is pretty easy. You can do it either in a pot of soil or even in a bottle of water and you need to make sure you have a container with sufficient drainage for healthy plant growth. For soil growth, pot up your mint plant with a good potting mix- a normal one containing peat is fine- and water the mint plant well after planting. Place it in an area with indirect light, preferably an east-facing window during spring and summer. Try maintaining an indoor temperature of around 65-70 degrees for the best results.'
2. TRY YOUR HAND AT HYDROPONICS
Starting your own indoor nursery is the way to go if you're serious about creating a thriving indoor garden. Hydroponics and indoor cultivation units will let you grow all sorts of plants and vegetables from seed, through to when you can harvest and (hopefully) eat them, all year round.
These types of units are super modern looking, and will even give you extra lighting if you choose the white light, so they look great in contemporary spaces, and won't take up much room either. All you need to get started is some seeds and a growing kit such as the Växer from IKEA.
3. GIVE PLANTS AND VEGETABLES THE RIGHT GROWING ENVIRONMENT
A greenhouse is a gardener's best friend, both indoors and out! Perfect if you want to grow your own and start veggies, fruit and herbs or even flowers off from seed as a greenhouse helps with humidity and temperature levels, stopping seeds drying out. This miniature greenhouse, with it's simple structure, would also make an eye-catching addition to any style of home, so it's a great option for growing and showcasing your greenery, letting you bring the magic of nature indoors.
4. USE SMALL SPACES TO GROW VEG FROM SCRAPS
'Growing vegetables has become extremely popular, and you can even regrow your veggies from scraps.' All you need is a bowl, your leftover vegetables and the right technique for lift off. 'If you want to grow mint plants in water, simply take tip cuttings of about 5 to 6 inches in length from an established mint plant. Remove the bottom leaves and place the cuttings in a water-filled glass or bottle. Set this in a sunny window with at least four to six hours of light each day.'
5. USE TRAILING PLANTS TO DIY AN INDOOR LIVING WALL
If you're not fussed about an edible indoor garden, then rest assured that there are so many types of gorgeous indoor plants out there . But if you're looking for a dramatic indoor garden look, similar to that of an outdoor living wall, then you should look to trailing house plant varieties.
Adding living, breathing greenery to your space will instantly perk up the atmosphere – and, not to mention cleanse the air. We love this look for a great alternative to the more traditional gallery wall, and again, if you're short on space  and working with a small living room or other area of your home, adding texture will actually. amplify the space you do have.
6. CLUSTER LARGE HOUSE PLANTS TO CREATE AN INDOOR JUNGLE
Want your home to have a raw and vibrant feel to it? Create a (controled) indoor jungle with oversized plant life. We'd recommend a humungous Swiss cheese plant as a great starting point and be sure to cluster your plants together for a mega display which will keep yours plants happiest too!
7. FAVOR AIR-PURIFYING PLANTS
Speaking of fresh air, not only can adding greenery and gardening indoors do wonders for your mental health but it can also be really beneficial to your physical health. The benefits of house plants are endless but one that tops them all is their capacity to rid the surrounding air of toxins by absorbing CO2.
'Snake plants can absorb and remove harmful toxins from the air, including CO2, benzene and xylene and can act as an effective defence against airborne allergies- particularly great for those allergy sufferers!
To plant, first start by choosing a pot with a drainage hole in the bottom, like a terra cotta pot which works well as they allow the soil to dry out more easily than plastic pots.
For your potting mix, use one which is good for draining and designed for "cacti and succulents" as it will be more resistant to becoming oversaturated with water. Remember not to pot your snake plant too deep.
Snake plants prefer bright, indirect light and can even tolerate some direct sunlight however, they also grow well in shady corners and other low-light areas of the home, which gives you the flexibility of where you want your plant to live. Try to keep it in temperatures above 10 degrees.'
8. CREATE A TINY TERRARIUM
Terrariums are incredible things. Cute and complete with their own living and self-nourishing eco-system, pretty remarkable eh? So, if it's all about the detail in your space, then this is the indoor garden idea for you. Fill yours with succulents, moss and the like, and see how it makes the perfect addition to a home office, lonely windowsill or even bedside table.
'A terrarium is great for those looking for a simpler way to enjoy gardening thanks to their fuss-free maintenance and minimal space requirements, meaning they're great for gardeners who lack outdoor space
This beautiful home accessory is ideal all-year-round and whilst it is simple to make, you can be as artistic as you want. All you need is a glass container, soil, some greenery, and a pinch of creativity to turn a vessel into a miniature landscape.'
9. HANG HOUSE PLANTS FOR A 360-DEGREE DISPLAY
If you're blessed with high ceilings, this makes the perfect platform for indoor gardening with taller plants. Choose more dramatic species or equally eye-catching trailing varieties for an all-round stunning display.
10. START SMALL WITH SUCCULENTS
One of the more easy plants to keep alive, succulents come in all shapes and sizes, and they deserve some space in every indoor garden especially if you are a beginner. Not only are they beautiful, but they are also super hardy so you won't be killing these any time soon. Bring a coffee table to life or jazz up your home office space with an assortment of species, sizes and pot style and you will not regret it.